Romania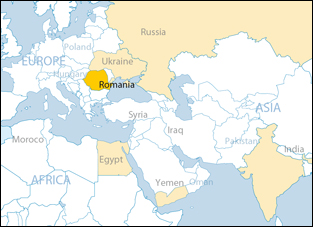 Romania has a long hydrocarbon history with oil production commencing in 1857 and peaking at 300,000 bopd in the mid 1970's. Current oil production is 76,000 bopd which represents 38% of current consumption. Remaining proved oil reserves total 600 MMB. Gas production has a similar long history commencing in the early 20th century and reaching a maximum rate of 3.4 bcf/d in 1985. Current gas production is 1.0 bcf/d which meets 86% of current consumption. Remaining proved gas reserves total 3.6 TCF (Note 1).
Production comes from several on and offshore basins which are still considered to be under-explored relative to many other hydrocarbon basins worldwide. As a net importer of hydrocarbons (especially oil), Romania offers attractive fiscal terms to encourage investment in exploration and production activities. Oil production is sold at world market prices whilst gas is sold at a domestic price point.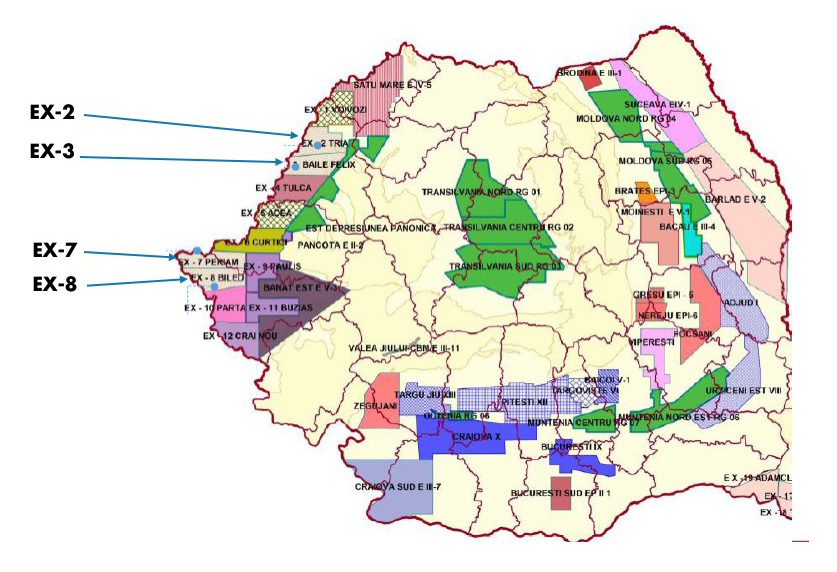 Current Licences
East West Petroleum was awarded four exploration concessions in Romania's 10th bid round and signed concession agreements with the governing regulatory agency, National Agency for Minerals and Hydrocarbons ("NAMR") in May 2011. The four blocks, Tria (EX-2), Balle Felix (EX-3), Periam (EX-7) and Biled (EX-8) cover a total of 4,079 km2 (1,007,500 acres) and are located in western Romania on the eastern margin of the producing Pannonian Basin. The blocks carry a mandatory Phase 1 exploration work program which includes for seismic acquisition and the drilling of three wells in each block at an originally estimated total program cost of US$62,335,000.
In October 2011, East West Petroleum entered into a farmout agreement with Nafta Industrija Srbije ("NIS") where NIS agreed to operate and fund 100% of the mandatory Phase 1 work program in return for earning an 85% working interest in each block. East West Petroleum retains a 15% carried interest in each block. In addition, if NIS opt to extend exploration activities into a second exploration phase which comprises a further three commitment wells in each block, the farmout agreement provides for their continued funding of 100% of the associated exploration costs. In the event of a discovery being declared commercial, however, East West Petroleum will be responsible for its 15% share of associated development and production costs.
Drilling of the first exploration well, Teremia 1000 in the Periam block, commenced in January 2017 with the well targeting multiple oil and gas bearing reservoir intervals at depths down to 2500m. Teremia 1000 discovered both oil and gas with light oil being tested from two intervals within metamorphic basement at gross rates up to 363 barrels of fluid a day with water cuts up to 49% (maximum net oil 177 bopd). In addition, a total of five Miocene sandstone intervals were tested four of which flowed gas at gross rates in the range 0.74 to 4.27 MMscfg/d. Teremia 1000 has been completed as a potential future oil producer. A decision regarding the commerciality of the oil accumulation is expected to be taken when the results of future appraisal wells are known. The Teremia 1000 structure is located along strike from several existing developed oil fields.
The operator, NIS, is planning an active program for the second half of 2018 as follows:
EX-2 and EX-3 : acquisition of 400 km2 of 3D seismic.
EX-7 : acquisition of 95 km of infill 2D seismic over the Terimia 1000 discovery and the drilling of an appraisal well. In addition, an exploration well is to be drilled on a separate prospect in the block.
EX-8 : a second appraisal well on the Teremia 1000 structure, which may extend into the EX-8 block, is expected to be drilled.
It is expected that additional drilling will take place in 2019 to continue to evaluate the significant potential of these under-explored blocks. There are a variety of potential play types involving multiple reservoirs in both structural and stratigraphic traps which are on-trend to proven, producing fields both in Romania and adjacent Serbia.